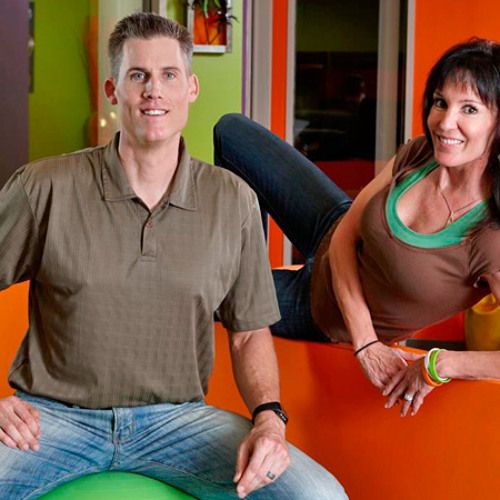 Zevely Zone: Extreme Couple
Carlsbad couple takes married life to the extreme From racing Porsches to heli-skiing this husband and wife live a life filled with adventure. CARLSBAD, Calif. — They say a couple that plays together, stays together. In this Zevely Zone, I went to Carlsbad to meet a husband and wife putting that theory to the limit. Danna and Bryan Van Noy live life in the fast lane. We met at one of their Porsches which is painted neon green. "Notice the radar detector in there that saves our fanny a lot," said Danna. This couple takes pride for taking their relationship to the extreme.
"Extremely something," they laughed. I started to peruse pictures of their past adventures. One picture showed them firing shotguns in unison, "Oh, we hunt, we hunt." The next picture shows them on bikes with matching uniforms, "Oh, we bike race," said Danna. They also race Porsches at 160 miles an hour, jump out of planes and climb the highest peaks of Peru. "We are always together, we are just inseparable," said Bryan. 
Married twelve years ago, a weekend getaway of fun for these two could mean an outdoor survival challenge. "They turn you loose with no food, water, fire, or shelter and you are just in the wilderness with nothing and you have to make it work," said Danna. The husband and wife survived 5 days in the wild and this year for Bryan's birthday, Danna cooked up another surprise. Heli-skiing in Utah!
"It's just a thrill ride with her all of the time," said Bryan. Danna then finished his sentence and said," It's really hard to find someone who has the same sense of adventure. When you have adrenaline and you have your endorphins going and you are together I think it's really bonding."
Danna is known as the Guru of Gluten
33-years ago her baby was diagnosed with Celiac Disease. "There was no internet, there were no books," said Danna. So she published six on that topic and others and it was at a wellness convention where Bryan first laid eyes on her.
"She was the keynote speaker at every conference and I was this little dorky vendor you know with gluten-free products," said Bryan.
Danna then added, "I didn't even notice him actually. It is so weird to me now to look back he is so hot and hunky and I'm like how did I not notice that guy." Bryan finally worked up the courage to ask Danna out. "I was like what? Because I felt like he was just out of my league," said Danna.